Marina Management pre-diagnostic
Strategic goals assessment and
digital readiness audit
Exploratory interview with marina teams

Assessment of existing digital practices, processes and tools
Diagnostics report & recommendations for digital improvement

Development of action plan for innovative digital solutions
Survey of Boaters & Analysis of their needs and expectations.

Sales / Market Positioning Offer (Falco Connected Boat).

Technical Study generated for IoT Network configuration.

Marina Management Interface
Compatible with marina management software programs
Identification of discrepancies between the management tool and the reality
Instantaneous boat scoring
Real-time monitoring of marina events
Reporting on strategic figures
Usage analysis (navigation flow, life aboard...)
in order to offer appropriate contracts and customized services
BOAT SLIP
monitoring 24/7
Reliable, secured, and autonomous wireless sensors detecting in real-time slip occupancy and identifying moored boats (linking with Falco connected boat)
- Inox mounting 316L, film anti-corrosion
- Size: L: 10 cm / l: 8 cm
- Weight: 400 g
- Warranty: 2 years
- Certifications: CE, FCC
- Marine product: IP67
BOAT SECURITY monitoring 24/7
Boat Protection (fire, ship list, intrusion, collision, theft are identified in real time). Embedded home automation  (temperature, humidity).
- Installation by Dual Lock 3M Marine or inox screws
- Size: L/W/T 15/10/5 cm
- Weight: 300 g
- Supply: 2 batteries AA 1,5V
- Autonomy: 1 year
- Warranty: 2 ans
- Certifications: CE, FCC
- Marinie product: surface treatment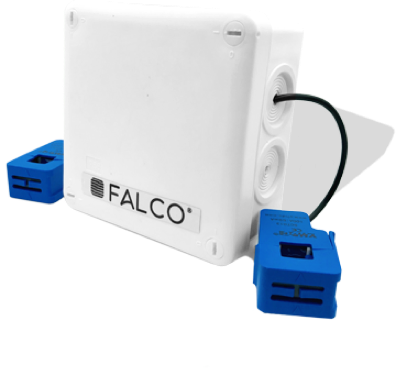 DOCKSIDE PEDESTAL
monitoring 24/7
Transform your standard dockside electrical pedestal into a connected pedestal.
Easy to install and autonomous, Falco allows you to monitor real-time electrical consumption.
- Fixation by Dual Lock 3M Marine
- Inox 316L Mounting
- Size: 10x10 cm
- Weight: 400g
- Supply: 1 battery AA 3,7V
- Autonomy: 5 à 10 years
- Warranty: 2 years
- Certifications : CE, FCC
- Marine product: IP67, surface treatment
Centralizes information and data
Report anomalies from the marina docks to the head office
Process intervention requests
Prioritizes interventions and dispatches to the correct marina staff
Views real-time status of the interventions: "to do", "ongoing", "finished"
Generate automatically intervention reports according to a protocol